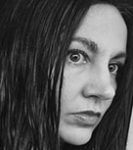 Janet Batet
2019 Art Circuits' Critic's Choice art writer
(b. Havana, Cuba) is an independent curator, art critic, and essayist currently living in Miami. She is a former researcher and curator at the Centro de Desarrollo de las Artes Visuales (Development Center of Visual Arts) and a former professor at the Instituto Superior de Arte (Higher Institute of Art), both in Havana. She is passionate about contemporary art, Latin American art, and new technology. Her articles on art practices are regularly published in Art Nexus, Arte al Dia, Cuban Art News, Arts on Cuba, El Nuevo Herald, and now in Art Circuits.
Art Season is in. Let's celebrate!
It is a great pleasure to congratulate Karen Rifas, winner of the 2019 Michael Richards Award. Born in Chicago in 1942 and settled in Miami for over six decades, Rifas is a woman with an admirable career. Her consistent artistic path, commitment toward her community, as well as her persistent pedagogical activities that have inspired multiple generations of local artists, make her an indisputable icon of South Florida's art scene. Using a commendable economy of resources, Karen Rifas creates highly suggestive sui generis universes, always deep-rooted in geometry, structure, and spatial relations derived from the synergy between the pieces and the integration of the viewer as an active component of the work. In another line of work, based on objet trouvés and collage, Rifas openly deals with specific socio-economic problems, turning her work into a social trigger. We extend our congratulations to all 44 winners of The Ellies: 2019 Creator Award (A.G., Agustine Goodgate, Aja Monet Bacquie, Brookhart, Jonquil, Carl Juste, Christina Petterson, Clifton Childree, Carolina Rodriguez, Cristine Brache, CYJO, David McCauley, Dana De Greff, Emmett Moore, Federico Uribe, Ernesto Oroza, Frances Trombly, Gabriela Serra, Freddy Rodriguez, Gaspar Gonzalez, Juan Ledesma, Germane Barnes, Leyden Rodriguez-Casanova, Linda Chamorro, Liene Bosquê, Marcelo Ertortequy, Maria Corina Ramirez, Liz Ferrer, Morel Doucet, Neil Brideau, Martha Raoli, Otari Oliva Buadze, Rose Marie Cromwell, Octavia Yearwood, Terence Price II, Tom Virgin, T. Eliott Mansa, Yanira Collado, Yucerf Marhi, and Torrance Grettrell) and The Ellies: 2019 Teacher Travel Grants (Elysa D. Batista, Jennifer Gifford, Johnnie Bess, Maggie Vidal-Santos, and Mary Larsen).
It is also a great pleasure to celebrate the CINTAS Foundation 2019-2020 Fellowship Awards Winner in visual arts, Miami-based artist Carlos Estévez. Behind the refined canon and the precise drawing of Renaissance affiliation, the complex yet intertwined universe of Carlos Estevez reunites quite a number of disturbing heteroclite signifiers that reevaluate our existence and place in the Global era. Now open to the public, Carlos Estévez: Cities of the Mind, his most recent solo show, is at the Lowe Art Museum. Open through May 3, 2020, Cities of the Mind features nine large-format paintings that reference the artist's enthrallment with city plans, and ancient cartography. Inspired by landmark cities around the world, the show is a personal cartography that becomes cosmogony that echoes contemporary global society. Also, and as part of the ARTtuesdays program, Books and Books is presenting on November 12, Carlos Estévez in conversation with Carol Damian, ARTtuesdays member, and Jill Deupi, Lowe Art Museum Director, about Estevez's current exhibit at the Lowe Art Museum.
Soon to close, on November 16, Paradoxically Tied: A Landscape of Permissions, the most recent solo show by Rafael Domenech. Open at Snitzer Gallery, as its name suggests, Paradoxically Tied is in immersive exhibition where urban landscape and cultural production intertwine in a visual and civic experience.
Gustavo Oviedo: No Rush opens at the Miami Art Society on November 2. Curated by Jane Hart, and created on the sway of the waves of the south Florida coast, No Rush is the compendium of ten years of marine inspiration, now translated in an array of mediums, among them: painting, drawing, vinyl collage, video, and mixed media installation.
Also opening on November 2, The Artful Book 2019, is an intimate exhibition on artist-made books by South Florida artists. Presented at LnS Gallery, the show is part of the program of activities by the Miami Book Fair 2019 and includes artists and poets, among them, John William Bailly, Mario Bencomo, Margarita Cano, Pablo Cano, Martin Casuso, Rosemarie Chiarlone, Susan Weiner, and Lydia Rubio.
Waiting for the Right Time is the title of the solo show by Jose Angel Toirac, a Cuban artist based in Havana, opening on November 30 at Pan American Art Projects. The show represents a summary of years of work, of trial and error, negotiation and censorship. Toirac's art practice is defined by its ability to observe and dismantle historical and political processes. His references, therefore, are always essential characters of politics and history, through which he relates the universal, to the reality that surrounds him.
Opening on November 2 and running through April 5, at The BASS Museum, Haegue Yang: In the Cone of Uncertainty presents a selection of Yang's oeuvre spanning the last decade. Born in Seoul in 1971 and living between Seoul and Berlin, Yang employs industrially produced quotidian items, digital processes, and labor-intensive craft techniques to address addresses current anxieties in contemporary world such as climate change, overpopulation, and resource scarcity. Taking its title from an expression of the South Florida vernacular that describes the predicted path of hurricanes, In the Cone of Uncertainty includes window blind installations, anthropomorphic sculptures, light sculptures, and mural-like graphic wallpaper.
The Museum of Contemporary Art of North Miami (MOCA) aims to contribute to the scholarship and recognition of under-explored women artists, and to the intercultural influences on European artists in exile in the Americas, presents
Alice Rahon: Poetic Invocations. Born in France and later nationalized as a Mexican, Rahon joined the Parisian Surrealist circle as a poet, but once in Mexico, she turned her creativity mainly to painting. She became an active member of a group of European Surrealists artists in exile including Remedios Varo, Benjamin Péret, Leonora Carrington, and Kati Horna. Curated by Teresa Arcq, the exhibition features approximately 30 works including paintings, works on paper, assemblages, as well as archival material such as the DYN journal, original poems and manuscripts and photographs, and explores five fundamental themes present in Rahon's creation: the art as poetic invocation, the power of the immemorial past, the journal that challenged limits, the volcano and the Mexican landscape and light: the dilution of inside and outside, and the metaphorical experience of the inside out: fiestas and popular art in Mexico. Alice Rahon: Poetic Invocations opens on November 26 and runs through March 29, 2020.
Yayoi Kusama: All the Eternal Love I Have for the Pumpkins (October 12, 2019 - January 31, 2020), is the first time that one of Kusama's signature "Infinity Mirror Rooms" is on view in Miami. The off-site exhibition presented by ICA Miami, showcases the artist's singular approach to large-scale immersive installation and incorporates one of the artist's quintessential symbols: the spotted pumpkin. Originally commissioned for the Japanese Pavilion at the 1993 Venice Biennale, All the Eternal Love I Have for the Pumpkins (2016) focuses the reflective chamber on a series of acrylic yellow gourds covered in black polka dots, allowing viewers to fully immerse themselves in Kusama's creation, becoming part of the art.
Opening on September 12, at the Pérez Art Museum of Miami-Dade (PAMM), What Carried Us Over: Gifts from Gordon W. Bailey, features selections from gifts made by Gordon W. Bailey, a Los Angeles–based collector, scholar, and advocate, who has donated 60 artworks to Pérez Art Museum Miami (PAMM) since 2016. The donations include works by Leroy Almon, Eddie Arning, David Choe, William Dawson, Thornton Dial Sr., Sam Doyle, Minnie Evans, Roy Ferdinand, Dilmus Hall, Lonnie Holley, Clementine Hunter, Harry Lieberman, Mario Mesa, Sister Gertrude Morgan, Daniel Pressley, Sulton Rogers, O. L. Samuels, Welmon Sharlhorne, Herbert Singleton, Jimmy Lee Sudduth, Mose Tolliver, Rev. Albert Wagner, Willie White, Jane "In Vain" Winkelman, and Purvis Young. Most of the artists featured in What Carried Us Over, overcame hardship, particularly those living in the Deep South during the Jim Crow era, producing a particular and inspiring body of work marked by their commitment to their art practices and the time they lived in.
A Universe of Things: Micky Wolfson Collects, opening on November 15 at The Wolfsonian Florida International University (FIU), celebrates the life of Micky Wolfson, Wolfsonian founder and collector extraordinaire. Opening on the occasion of Wolfson's 80th birthday, the exhibition examines Wolfson's life of collecting by exploring how objects form networks that connect across time and cultures. The exhibition coincides with the publication of the book Founder's Choice (Scala Publishers), which highlights 37 key collection objects selected by Wolfson himself.