Carol Damian
2020 Art Circuits' Critic's Choice art writer
Carol Damian, Ph.D. is an Art Historian and Independent Curator specializing in the Art of Latin America and the Caribbean. She is the former chairperson of the Art and Art History Department and former Director and Chief Curator of the Patricia and Phillip Frost Art Museum at Florida International University.
ART CIRCUITS CRITIC'S CHOICE OCTOBER 2020
All of us have been art-starved for long enough so happy to see that things are slowly reopening, and even with restrictions, we can visit for a welcome and enlightening experience – away from our computer screens. Here are some tips for October:
Check Art Circuits for up-to-date listings of openings/closings and the COVID Protocol rules followed. Many are open by appointment or with limited hours and capacity, but they are open and need our support!
Museums:
Museum of Graffiti: The Fabric of America: Artists in Protest.
In solidarity with the Black Lives Matter movement, the exhibition features the work of over 30 South Florida graffiti artists and illustrators who were invited to create protest-themed original art on denim jackets. Each jacket displays an important message while you wear it, without having to say a word.
Museum of Contemporary Art North Miami (MoCA): Raúl de Nieves: Eternal Return and The Obsidian Heart
October 15, 2020 - March 21, 2021
Eternal Return and The Obsidian Heart a comprehensive survey of work by Raúl de Nieves in an exhibition that connects the artist's exuberant material sensibility to his roots in punk music, devotional ritual, and celebratory queerness. Especially during these Covid times, to step into this exhibition is to enter into an awareness of the multiplicity of time in an immersive experience that glitters and surprises.
Galleries:
Emerson Dorsch Gallery: Clifton Childree: Storm Inn
September 30 – November 7, 2020
Storm Inn, a solo exhibition of Clifton Childree's new paintings began as backdrops for his films and mixed media installations, as props, not the focus. After more than a decade of working in Miami's art scene, he has developed a painting style that holds his past while opening into a more meditative moment.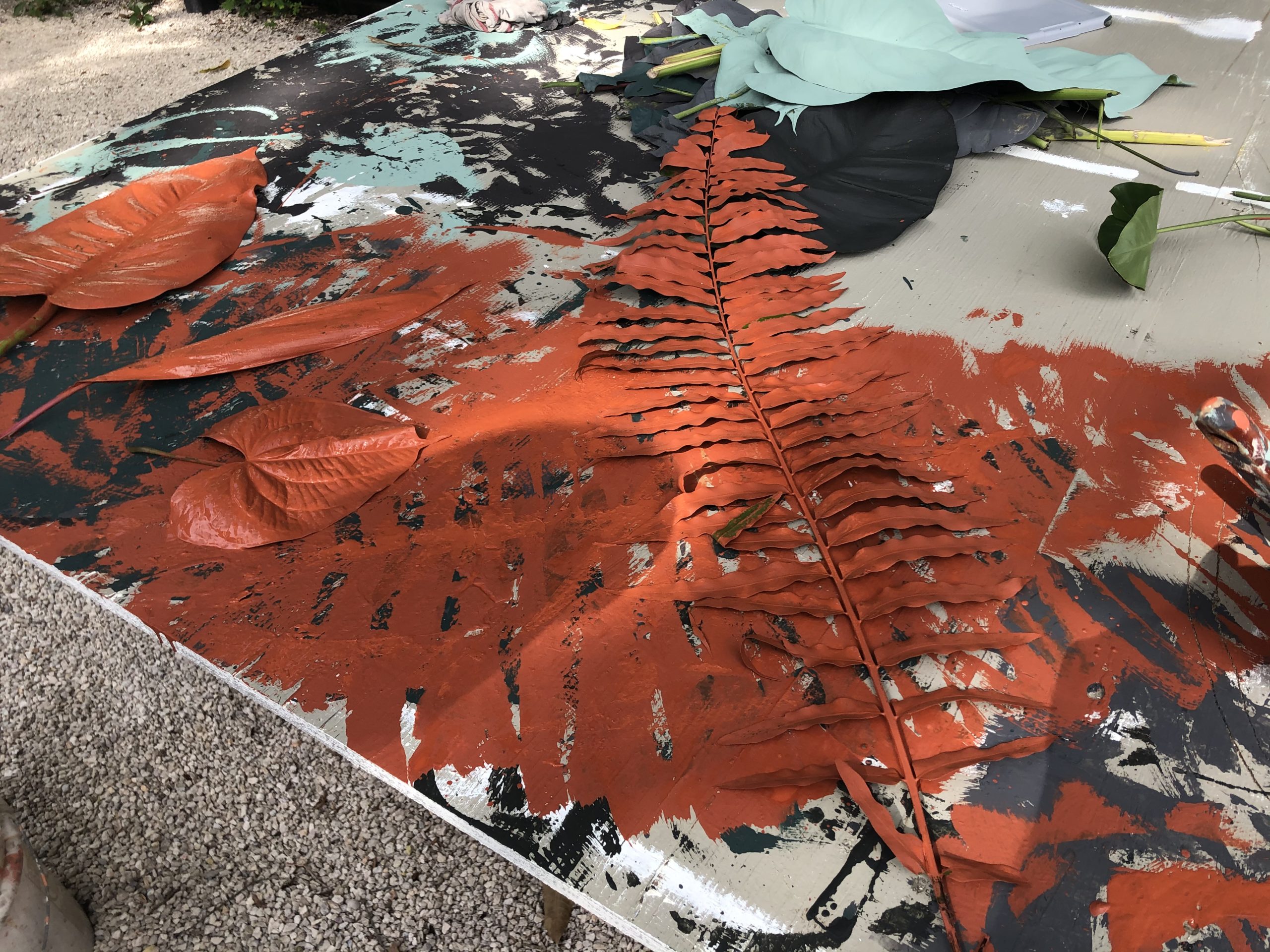 Pan American Art Projects: AMERICAS
October 3 – December 5, 2020
A group exhibition of artists from throughout the Americas focuses on the complicated concept of America / American and the many misconceptions that occur regarding where the geographical boundaries meet the more complex cultural boundaries of the region
Dot FiftyOne: BERND MECHLER/HERNÁN CÉDOLA
Düsseldorf/Tolosa
September 30 – November 20, 2020
The exhibition presents the work of two artists from different latitudes that have maintained an enriching exchange of dialogues for five years. The show focuses on the coexistence and interaction of their works in the same space for a provocative installation and conversation.
Institutions/Residencies/Non-Profits
BAC: Bakehouse Art Center: Justice Project
The BAC is open inside by appointment, but the outside walls have been taken over by Artist and Activist Vanta Black for a large-scale mural: Say Their Names: A Public Art Memorial that will recognize over 250 lives lost to violence and act as a site for collective mourning and remembrance. Located on the west-facing wall of the campus along NW 6th Avenue and accessible to visitors 24 hours a day.
Fountainhead Residency and Art Studios: Immigrant Artist Residency
October 2-31, 2020
Four foreign-born, U.S.-based artists will be in residence with the purpose to Ignite Discourse Around Immigration into the United States with an opportunity for discovery, change, and inspiration: Marton Robinson, Arleene Correa-Valencia, Victoria-Idongesit Udondian, and Daniel Shieh.
Of special interest:
The Camp Gallery: Forty Women Pulling at The Threads of Social Discourse
October 1- October 25, 2020
The Contemporary Art Modern Project (The Camp Gallery) in collaboration with Fiber Artists-Miami Association (FAMA) announces their signature art exhibition to commemorate American women winning the vote.
Gables Art Collective
October 2 – December 31, 2020
Just so you do not have to endure the traffic to go to the art fairs, the City of Coral Gables is bringing art and artists to activate Miracle Mile. The Gables Art Collective's Studios on the Mile will feature 20 artists working in 7 spaces, every day. It is an amazing chance to interact with artists ranging from experienced professionals to emerging to students, working in all media.