Museums
Vizcaya Museum & Gardens
House, Gardens, and Collections.
Vizcaya Museum and Gardens preserve its cultural and environmental resources to engage people in connecting with the past, understanding the present, and shaping the future. Built in 1916, Vizcaya features a Main House filled with a decorative art collection and 10 acres of formal gardens.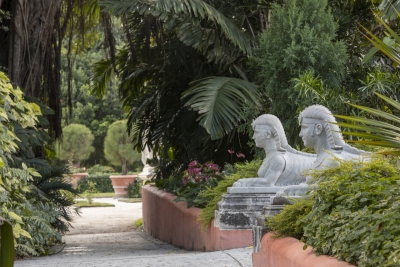 About
In 1952, James Deering's nieces conveyed Vizcaya to Dade County (now Miami-Dade). In the following year, the estate opened as the Dade County Art Museum within the County's Park and Recreation Department. The museum's original name demonstrates that Vizcaya did not then seem a "historic" property and that South Florida's cultural landscape has changed dramatically over the past 60 years. The museum features the Main House with 34 decorated rooms showcasing over 2,500 art objects and furnishings; ten acres of European-inspired formal gardens; a significant orchid collection totaling 2,000 specimens; and 25 acres of endangered primary growth forests. Vizcaya is accredited by the American Association of Museums and was designated a National Historic Landmark in 1995 for its significant architecture, landscapes, interiors, and collections.
Vizcaya Museum & Gardens
3251 S. Miami Ave.
Miami, Fl. 33129
P: 305 250 9133

Hours:
Daily: 9:30 am – 4 :30 pm
except Tuesdays
Admission:
Adults $25
Seniors $16 / Students $15
Child (6-12):$10
<5 yrs. Free
Other Venues: