Janet Batet
Art Circuits Critic's Choice Writer for 2019
(b. Havana, Cuba) is an independent curator, art critic, and essayist currently living in Miami. She is a former researcher and curator at the Centro de Desarrollo de las Artes Visuales (Development Center of Visual Arts) and a former professor at the Instituto Superior de Arte (Higher Institute of Art), both in Havana. She is passionate about contemporary art, Latin American art, and new technology. Her articles on art practices are regularly published in Art Nexus, Arte al Dia, Cuban Art News, Arts on Cuba and El Nuevo Herald, among others.
Claire Breukel
Art Circuits Critic's Choice Writer for 2016 and 2022
Claire Breukel is the Executive Director of ProjectArt. She has worked for public art programs, private collectors and foundations, and has curated exhibitions internationally. She is a self-taught writer and has written on contemporary art for Harvard's Revista, Eikon, Arte Aldia, ArtPulse, Wynwood magazine, Hyperallergic.com, Whitewall magazine as well as ArtCircuits. She co-edited the book YES Collect Contemporary El Salvador with Simón Vega and Mario Cader-Frech.
Amalia Caputo
(Caracas, Venezuela) is a photo and video based artist, art historian and art writer whose work focuses on memory, the archive, feminine identity and thinking about the photographic image from the perspective of photography itself. She carries a BA in art history from Universidad Central de Venezuela, and an MA from New York University and the International Center of Photography, in the fields of art theory and photography.
Adrienne Chadwick
Adrienne Chadwick was Deputy Director for Education at Pérez Art Museum Miami (PAMM). She has held previous positions as Education Manager at Nova Southeastern University Art Museum Fort Lauderdale and Director of Education at Young At Art Museum. A studio art practice focused on mixed media installation compliments her work as an arts administrator. Adrienne earned a BFA in visual art from New World School of the Arts.
Carol Damian
Art Circuits Critic's Choice Writer for 2020
Carol Damian, Ph.D. is an Art Historian and Independent Curator specializing in the Art of Latin America and the Caribbean. She is the former chairperson of the Art and Art History Department and former Director and Chief Curator of the Patricia and Phillip Frost Art Museum at Florida International University.
Beth Dunlop
Beth Dunlop is editor of the international design and architecture quarterly, Modern Magazine (www.modernmag.com). She was the longtime architecture critic for The Miami Herald and previously editor of HOME Miami magazine. She is the author of numerous books, including The Tropical Cottage and Miami: Mediterranean Splendor and Deco Dreams. She lives in Miami Beach with her husband, William Farkas, and golden doodle, Olive
Donette Francis
Art Circuits Critic's Choice Writer for 2021
Donette Francis is Associate Professor of English and American Studies at the University of Miami, where she is founding member of the Hemispheric Caribbean Studies Collective. She is the author of Fictions of Feminine Citizenship: Sexuality and the Nation in Contemporary Caribbean Literature. Professor Francis curated and published a special journal issue, "Looking for Black Miami" in Anthurium, March 2020: https://anthurium.miami.edu/articles/10.33596/anth.408/
Dr. Francis and is currently working on a related book project: Creole Miami: Black Arts in the Magic City, a sociocultural history of black arts practice in Miami from 1980s to present.
Margery Gordon
Margery Gordon is a journalist, critic, curator, and educator specializing in contemporary art. She began collaborating with Art Circuits in 2014. As founder and director of Arts Encounters, Gordon organizes cultural tours, programs. and exhibitions. She has visited artist-run spaces throughout the Eastern U.S. for another ongoing project.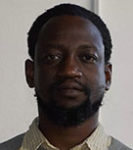 Adler Guerrier
Adler Guerrier, born in Port-Au-Prince, Haiti, lives and works in Miami, Florida. Guerrier received a BFA from New World School of the Arts/University of Florida. Guerrier's recent exhibitions include Relational Undercurrents: Contemporary Art of the Caribbean Archipelago, at Patricia & Phillip Frost Art Museum and Dust Specks on the Sea Contemporary Sculpture from the French Caribbean & Haiti at Hunter East Harlem Gallery
Adriana Herrera
Adriana Herrera earned her Ph.D. with an interdisciplinary dissertation in Literature and Art. She was an art critic for El Nuevo Herald, editor advisor with Arte al Día International, and free-lance writer for Art Nexus, Arte al Límite, and Art Experience NYC. She began collaborating with Art Circuits in 2016. In 2011, she co-created Aluna Art Foundation. Since it's founding, Aluna Curatorial Collective has curated several exhibitions in Miami, Siberia, and Mónaco.
George Neary
George Neary has worked in arts/culture/Preservation and LGBTQ marketing for over 20 years. He was a senior staff member at Miami's visitors and convention bureau for 20 years and executive director for 7 years at Miami Beach's Preservation League. (MDPL) He has conducted hundreds of historic, culture, community and LGBTQ tours all over Miami.
Anne Tschida
Art Circuits Critic's Choice writer for 2018
After graduating from the Medill School of Journalism at Northwestern University in Evanston, Ill., Anne moved to Hong Kong and worked for a variety of publications, covering the cultural arts of China and Southeast Asia. After a stint for an Asian newspaper in Los Angeles, she relocated to Berlin, Germany, and worked as a journalist during Berlin's -- and Eastern Europe's -- cultural revival after the fall of the Iron Curtain. She then took a position in Miami as associate editor overseeing all cultural sections at Miami New Times, and has since written and edited for numerous publications about the vibrant arts scene that has started to sprout in South Florida, including writing regular reviews for local and national publications including the Miami Herald. She currently is the editor of Artburst Miami.
Elisa Turner
Art Circuits Critic's Choice Writer for 2008 -2015
Award-winning art critic and journalist Elisa Turner has written for Art Circuits since 2008. She also writes for various online and print publications. Her distinguished career as Miami Herald art critic includes international assignments to Cuba and Haiti, as well as Venice, Italy and Basel, Switzerland. She teaches at Miami Dade College.
Barbara Young
Barbara N. Young is an art librarian and curator. She initiated Artmobile service for the Miami-Dade Public Library System and co-founded the library's Vasari Project with Helen L. Kohen. As the library's Art Services Supervisor and now an independent curator, she has worked with artists and collections in South Florida and other places.