Art Trek by Art Circuits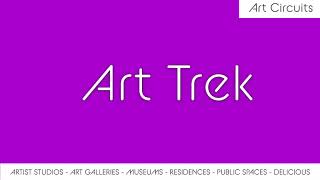 Art Trek Episode 19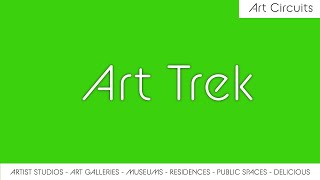 Art Trek Episode 18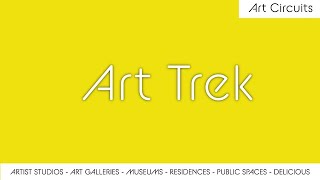 Art Trek Episode 15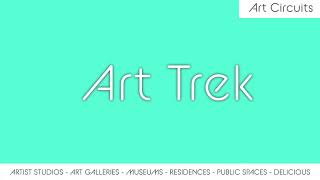 Art Trek Episode 14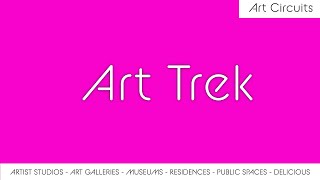 Art Trek Episode 13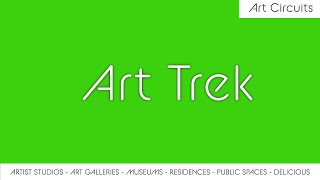 Art Trek Episode 12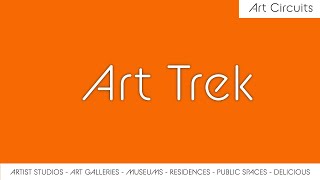 Art Trek Episode 11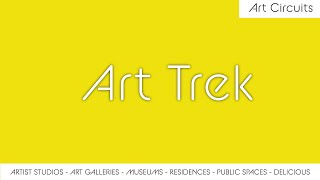 Art Trek Episode 10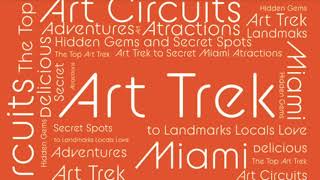 Art Trek Episode 9
Art Trek Episode 19

We have been planning a visit to the Bakehouse in Wynoowd for so long! Finally we arrived with George Neary and Ninoska Huerta. Director Cathy Leff gave us a warm Welcome and Curator Laura Novoa with artist Lauren Shapiro toured us around. We saw the Obscured Publications in the hallways, then the Amanda Linares' spectacular artist books, to arrive to Laura's impressive installation Future Pacific. In the garden we enjoyed Clara Toro's meaningful Wynwood Norte installation. After a quick stop at Pedro Wassan' studio, Cathy took us around the building where we were very impressed with the powerful Say Their Names' mural recognizing over 250 lives that have been lost due to gun violence. Maritza Caneca's very blue swimming pools marked the end. The Bakehouse is an art trek in one place!

Art Trek Episode 18

A visit to the Miami Dade Main Library downtown is always a pleasure. This time we went straight to the Vasari Project on the 2nd floor, there we met with Stephanie Garcia in charge of this unique archive of the art history in Miami Dade. Anything you want to research about including the complete collection of art circuits' guides! And the Muller collection that George Neary really wished to review. The Library is not complete without Madame Library Barbara Young, who joined us for an interesting art trek downtown. We stopped by the HistoryMiami Museum, walked to the picturesque Soya & Pomodoro for lunch, and then, we arrived at the Freedom Tower. The Electric Body show at MOAD is worth the visit. And the Metromover is free. Art Treks by Art Circuits are an invitation to a safe and entertaining field trip.

Art Trek Episode 13

The Fabulous George Neary and I decided to go art trekking to Boca Raton Museum and check their 3 new shows. We met with friends, we loved the Murano glass exhibit, and even found a Segal in color, a Miami River painting by Tiffany and beautiful Purvis Young works. But of course, on our way to Boca, we stopped at the art center Hollywood to enjoy Now, the Biennial and on our way back we had coffee at Ft Lauderdale art Museum and enjoyed the New South Florida artists. Cool art trek, and more to come. Plan your weekend with art information found on artcircuits.com Follow us on Instagram.

Art Trek Episode 12

Beautiful skies and cool weather are a good combination for art treks. We went to Ft. Lauderdale to the Girls'Club space, it's the Francie Bishop Good Collection, they open every Friday. The show Civil Rights Era Photography is timely and very powerful, curated by Sarah Michelle Rupert. Who was there with Violet our smiling hostess. After good coffee at Wells (their unmissable neighbor), we went to the Ft Lauderdale Museum to visit old and new images that we love, and of course the store. I always find something "marvelous" there, this time a scarf! Saturday invited to Mindy Solomon's opening of Güelcome ( yes with G, it's the Venezuelan way to say it) and also ceramics, later we stopped at Dot Fiftyone to see in person Gonzalo Fuenmayor monumental pieces. We found friends outside and inside the galleries. Plan your weekend with Art Circuits' newsletter every Thursday and enjoy art!

Art Trek Episode 11

Once upon a time, we went park-hopping in the city of Doral. This is our art trek clip! Goal: the Manolo Valdes' monumental sculptures. We had a joyful field trip. Try it! @art_circuits @cityofdoral @dorcam #doralart #foundry #meninas #lazarovaldes #asubronze #artinpuclicspaces #publicart #sculpture #parksandrecreation #mifa #mifagallery #mifagallerymiami

Art Trek Episode 10

Wynwood

Art Trek Episode 9

We included in our New Year Resolutions: a weekly art trek with friends. Our first 2021 art trek was a visit to MOCA, the contemporary art museum in North Miami. We were warmly greeted at the door by Tainisel Rodriguez and we felt like kids with the amazing Raul de Nieves show and with the delicate exhibition Life and Spirituality in Haitian Art. Of course, a croissant before the museum and a mimosa after the museum at La Crème Bakery made the visit: perfect. Artcircuits.com tells you each Thursday how to plan your weekend with art and joy. Subscribe to our free newsletters.
Art Circuits TV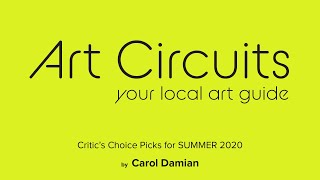 Art Circuits Critics Choice Summer 2020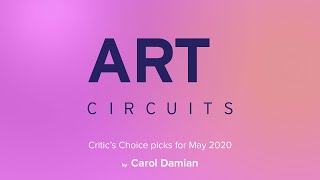 Art Circuits Critics Choice May 2020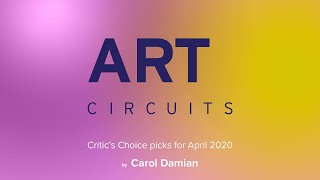 Art Circuits' Critic's Choice for April 2020 by Carol Damian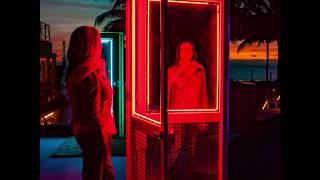 Sandra Muss Illuminations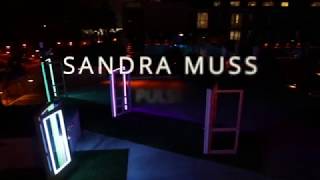 Sandra Muss at Pulse 2019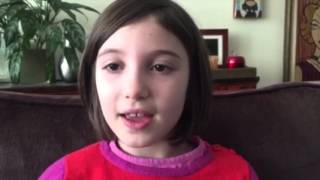 Art Circuits 2016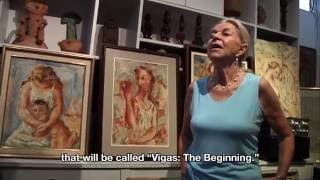 The Orchid Seller / El Vendedor de Orquídeas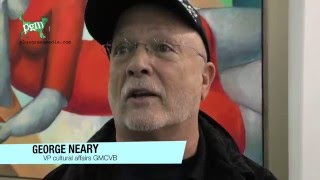 Art New York-MIAMI 2016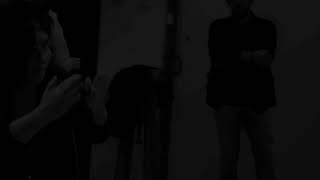 ARTIKA Artist's Books present Federico García Lorca: Blood Wedding as interpreted by Lita Cabellut
Art Circuits Critics Choice Summer 2020

June finds us in the new normal again, but with some hope as businesses start to reopen, including some galleries and museums. Very restricted and socially distanced, most open by appointment, which does allow you to see art in person if you are tired of the virtual experience. My choices for June:

Art Circuits Critics Choice May 2020

Art Circuits' Critic Choice art writer Carol Damian 's Picks for May 2020

Art Circuits' Critic's Choice for April 2020 by Carol Damian

Carol Damian Art Circuits 2020' art critic suggestions about Miami's cool virtual exhibits for April. Visit www.artcircuits.com for more information.

Sandra Muss Illuminations

Illuminations, an exhibition of work by artist Sandra Muss that explores the mystical qualities of light, will be on view at Artscape Lab, Miami, Florida. The exhibit focuses on her use of light in a diversity of media. The simplicity of a tube of light can transform spaces and shapes into magical entities and the properties of refraction and reflection further enhance her message of transcendence. Once a romantic notion derived from ancient mystical notions of light, in the secularism of the modern world, its transformative powers take on a new meaning, while never losing their potency and spiritual relevance. Muss looks beyond the science of light combined with references to industrial materials for a new aesthetic that goes beyond minimalism into a more phenomenological one. It is this phenomenon of combination, physical and conceptual, that is the basis for the work in the exhibition.

Sandra Muss at Pulse 2019

At 2019 Pulse's art fair entrance, a monumental trio of sculptures by American artist Sandra Muss, greeted the public. Portals: Dream of Flight, 10 feet tall Cor-ten Steel abstract cicada wings.

Art Circuits 2016

In this video, art enthusiast Andrea Enriquez describes the merits of the Art Circuits guide.

The Orchid Seller / El Vendedor de Orquídeas

The Orchid Seller: Oswaldo Vigas, a renowned Venezuelan painter, returns, in his 80s, to the town where he was raised, searching for a painting that was lost during his teenage years. If he finds it, he and his wife, Jeannine, will be able to complete an exhibition about the early stages of his career. This search becomes more than an opportunity to revisit the early influences on his art. During this exploration, he is confronted with a chapter of his youth that marked him for the rest of his life, and defined him as a human being and as a creator. The search for the lost painting, EL VENDEDOR DE ORQUÍDEAS (THE ORCHID SELLER), allows us to discover the human side of one of the most influential artists of Latin America

ARTIKA Artist's Books present Federico García Lorca: Blood Wedding as interpreted by Lita Cabellut

Federico Garcia Lorca: Blood Wedding as interpreted by contemporary Spanish artist Lita Cabellut. This is the new artist book for collectors that ARTIKA is launching in NY and at ARCO Madrid next week