Private Collections
El Espacio 23
2021 – 2022:
Schedule your visit here: info@elespacio23.com
Witness: Afro Perspectives from the Jorge M. Pérez Collection
Zimbabwean guest curator Tandazani Dhlakama of Zeitz MOCAA, in collaboration with Pérez Collection curators Patricia M. Hanna and Anelys Alvarez. The Experimental Art Center's Second Show Explores Issues of Systemic Oppression, Identity, and More.
The show features over 100 works by African and African Diaspora artists. Witness: Afro Perspectives invites visitors to be present in the current moment and bear witness to challenges carried from one generation to another.
Masimba Hwati, New Work
The first resident artist created new works for the exhibit, known for his unconventional, three-dimensional mixed-media sculptures, Hwati will be producing new work for the exhibit, including a site-specific piece exploring black identity in 1960's America.
The Perez Family Foundation continues the standing partnership with The Fountainhead Residency benefitted numerous artists in 2020, including South Florida local Kathia St. Hilaire; Puerto Rican artist Danielle de Jesus; Ambrose Murray from Western North Carolina, and Brooklyn-based Haley Josephs.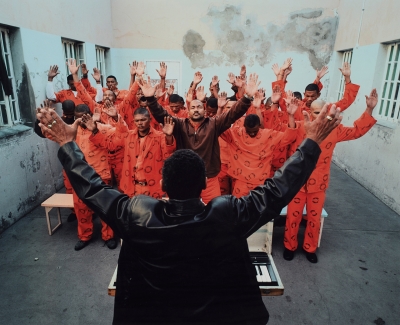 El Espacio 23 is a contemporary art space founded by collector and philanthropist Jorge M. Pérez. Located within a repurposed 28,000 square foot warehouse in Miami's Allapattah neighborhood, El Espacio 23 serves artists, curators, and the general public, with regular exhibitions, residencies and a variety of special projects drawn from the Pérez Collection.
El Espacio 23
2270 NW 23rd St.
Miami, Fl 33142
P: 305 460 9900

Hours:
Thursday, Friday, and Saturday: 10 am – 5 pm 
Admission: Free
Schedule your visit here: info@elespacio23.com
Other Venues: